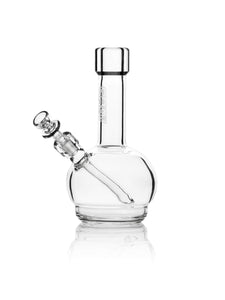 GRAV® Mini Round Base Water Pipe
If you are looking for a great small bong, the Grav round base is one of our favorite options for mini bongs.  The glass bowl is sturdy and the base allows the whole bong to be grounded, pulling well and never breaking.
The mini GRAV® Round-Based Water Pipe is 6" tall and made on 25mm tubing. Its fission downstem diffuses smoke through water and is fixed inside the pipe to prevent damage.The round-based water pipe comes ready to use with a 10mm GRAV® Cup Bowl and functions best with approximately 1" of water.
GRAV® is one of the top selling glass bong manufacturers in the modern world.  Grav produces many of the best small bongs, best glass pipes, best glass bowls, and best small water pipes.  The quality of Grav's pipes is often unmatched by competitors in the glassware industry.
Top-rated Smallest Bong To Buy Online

Thick, Quality-made, GRAV® Glass Base Making The Mini Bong Near Break-Proof

Best Glass Water Pipe Manufacturer in USA

Portable, Discreet Small Water Pipe