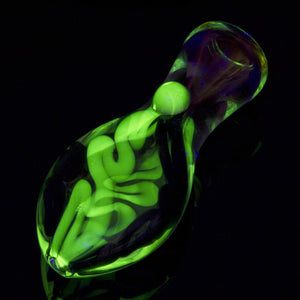 Premium UV Flat Belly Chillum | The Yung Carl Sagan
Do you want to be the next Carl Sagan?  Well do I have a product for you!
This spooky glass chillum is made with premium UV glass that will blast you to outer space, and beyond.  This glass pipe smokes like no other, and it is truly a dream at night, in the dark.  You just have to try it.
Top-rated cheap glass pipe made in the USA.
Glass bowl that doesn't let any tobacco or herb fall out.
Crazy, insane light show of a smoking chillum, or chilum.
Considered by many to be the best chillum for sale online.
You do not want to be the one friend who has not tried this perfect glass one-hitter, do you?