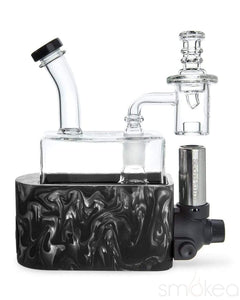 Stache Rio Swirl Rig-in-One Kit
Upgrade your dabbing experience with the Rig-in-One (aka Rio) Kit from Stache Products. This revolutionary water pipe is a game-changer in the world of portable rigs, offering unparalleled convenience and functionality. Designed specifically for cold start dabbing, the Rio Kit ensures a smooth and flavorful hit every time.
The centerpiece of the Rio Kit is the borosilicate glass micro rig bubbler. Crafted with precision, this compact yet powerful piece features an inline percolator that filters and cools the vapor for a clean and enjoyable dabbing experience. The rig's ergonomic design fits comfortably in your hand, allowing for easy handling and control.
To enhance your dabbing session, the Rio Kit includes a range of essential accessories. The Rio base, equipped with a torch lighter and an overflow valve, provides a stable and reliable heat source for efficient vaporization. The glass directional carb cap allows you to control the airflow and maximize the flavor of your concentrates. With the included dab tool, you can easily handle and manipulate your concentrates with precision. And the 14mm quartz banger ensures optimal heat retention and distribution for consistent and flavorful dabs.
Transporting your Rio Kit is a breeze, thanks to the high-quality zippered carrying case. This durable case not only keeps your rig and accessories safe and secure but also allows for easy portability wherever your dabbing adventures take you. Whether you're heading to a friend's house or going on a weekend getaway, the Rio Kit is the perfect companion for on-the-go dabbing.
Available in black and limited edition colors, the Rio Kit is not only a functional masterpiece but also a stylish accessory. Its sleek and compact design measures 6.5" in height, 6" in length, and 2.25" in width, making it the ideal size for discreet and convenient dabbing.
Elevate your dab game to new heights with the Stache Rio Swirl Rig-in-One Kit. Experience the ultimate in convenience, portability, and performance. Get your Rio Kit today and revolutionize your dabbing experience.