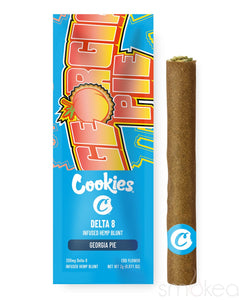 Cookies Delta 8 Blunt - Georgia Pie
These fully psychoactive Delta 8 Blunts from Cookies are the perfect way to enjoy Delta 8 conveniently in blunt form. Inspired by your favorite Cookies flavors, these pre-rolled blunts are made with Delta 8 infused whole bud CBD and CBG flower. Rolled in a premium hemp wrap and finished with a glass filter tip for an even burning, smooth smoking, heavy hitting, and long lasting euphoric experience.
Georgia Pie (Hybrid): Georgia Pie is a strong hybrid strain that is known for it's delicious peach cobbler aroma. Featuring a strong savory baked fruit flavor, this strain can produce uplifting effects and has been reported to have great pain relieving capabilities.
Delta 8 Infused CBD and CBG Flower
Exclusive Cookies Terpenes
Peach Cobbler Aroma
Savory Baked Fruit Flavor
Uplifting, Happy, Hungry Terpene Profile
Premium Hemp Wrap w/ Glass Filter Tip
Zero Nicotine and Tobacco
Lab Tested for Quality and Potency
Manufactured in the USA
Ingredients:
100% CBD Hemp Flower, Delta-8 Tetrahydrocannabinol (Delta 8), Terpenes
| | |
| --- | --- |
| Brand | Cookies |
| Cannabinoid | Delta 8 |
| Milligrams | 200+ |
| Capacity | 2g |
| Strain | Hybrid |
Please read our full Hemp Disclaimer by clicking here.