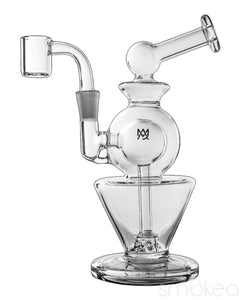 MJ Arsenal Orbital Series Gemini Mini Dab Rig
Experience the wonders of the cosmos with the revolutionary Orbital Series Gemini Mini Dab Rig by MJ Arsenal. Inspired by the historic space mission that forever changed humanity, this extraordinary piece of glass artistry will transport you to new heights of enjoyment.
Crafted with precision from high-grade borosilicate glass, the Gemini Mini Dab Rig showcases a mesmerizing double ball, puck percolator. This innovative design ensures unparalleled filtration, delivering smooth and clean hits every time. As you inhale, watch in awe as the smoke dances through the percolator, creating a visual spectacle reminiscent of celestial bodies in motion.
The Gemini Mini Rig's ergonomic bent mouthpiece guarantees a comfortable and effortless smoking experience. Its carefully engineered shape allows for a seamless connection between you and your favorite concentrates, ensuring maximum enjoyment with every hit. The reduced air capacity of this mini rig enhances the flavor profile of your concentrates, allowing you to savor every nuanced note.
Included with the Gemini Mini Dab Rig is a 10mm quartz banger, providing you with the perfect surface to heat and vaporize your concentrates. This premium accessory ensures optimal flavor preservation and efficient vapor production. Packaged in a custom-designed Orbital Series box, the Gemini is not only a functional masterpiece but also a collector's item that will impress even the most discerning enthusiasts.
With dimensions of 6.5" in height and a base diameter of 2.625", the Gemini Mini Dab Rig strikes the perfect balance between portability and functionality. Its compact size allows for easy transportation, making it the ideal companion for on-the-go adventures or intimate gatherings. The 10mm joint size ensures compatibility with a wide range of accessories, giving you the freedom to customize your smoking experience to suit your preferences.
Emblazoned with the iconic MJ Arsenal decal, the Gemini Mini Dab Rig proudly represents the brand's commitment to quality and innovation. Prepare to embark on a cosmic journey like no other with the Orbital Series Gemini Mini Dab Rig – a true testament to the limitless possibilities of the universe and the art of dabbing.