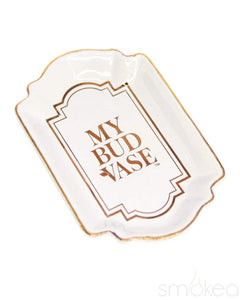 My Bud Vase Tray
Enhance your My Bud Vase collection with the exquisite My Bud Vase Tray. Crafted from high-quality porcelain, this tray is specifically designed to cater to all your smoking essentials. Whether you need a safe spot for your lighters and bowls or a convenient surface for rolling your own, this tray has got you covered.
Featuring a stunning gold detail, the My Bud Vase Tray effortlessly complements any decor, adding a touch of glamour to your smoking accessories. Its sleek and sophisticated design ensures that it seamlessly integrates with your existing My Bud Vase bongs, creating a cohesive and visually appealing display.
Constructed from durable porcelain, this tray is built to withstand the test of time. Its sturdy and reliable nature ensures that it can handle the daily wear and tear of your smoking routine. The My Bud Vase Tray is not just a stylish addition to your collection, but also a practical and functional accessory that simplifies your smoking experience.
Measuring at 4.5" x 3" x .75", this tray is compact and portable, making it ideal for both home and on-the-go use. Its convenient size allows you to easily carry it with you wherever you may need it, ensuring that you always have a designated space for your smoking essentials.
Emblazoned with the iconic My Bud Vase logo, this tray proudly represents the brand's commitment to quality and style. The gold detail adds a luxurious touch, elevating the overall aesthetic of the tray and making it a standout piece in your collection.
Whether you are a seasoned smoker or just starting out, the My Bud Vase Tray is an essential addition to your smoking arsenal. Its versatility, durability, and elegant design make it the perfect companion for all your smoking needs. Elevate your smoking experience with the My Bud Vase Tray and indulge in a touch of sophistication and glamour.