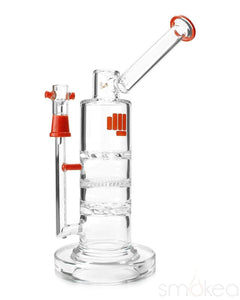 POUNDS by Snoop Dogg Battleship Sidecar Dab Rig
POUNDS by Snoop Dogg presents the Battleship Sidecar Dab Rig, a true masterpiece in the world of smoking accessories. Crafted with precision and care, this hand-blown glass pipe is a testament to the artistry and innovation that Snoop Dogg brings to the table.
The Battleship Sidecar Dab Rig is aptly named, as it resembles a powerful ship ready to set sail on a sea of smoke. Standing at a height of 12 inches, this rig offers a commanding presence that is sure to impress. Its sturdy construction, with a glass thickness of 5mm and a base diameter of 4.75 inches, ensures durability and stability.
Designed for the discerning smoker, the Battleship Sidecar Dab Rig features a fixed downstem and a sidecar mouthpiece, providing a comfortable and enjoyable smoking experience. The dual turbine percolators and honeycomb percolator work in harmony to deliver smooth and filtered hits, allowing you to savor every moment.
With a 14mm male joint, this rig offers versatility and compatibility with a wide range of accessories. Whether you prefer a 14mm female dome and nail, a 14mm quartz banger, or a 14mm female dry herb bowl, the Battleship Sidecar Dab Rig has got you covered. It even comes with a glass tool for easy handling and maintenance.
Each Battleship Sidecar Dab Rig is a unique work of art, individually handcrafted by skilled artisans. This means that no two pieces are exactly alike, adding to the exclusivity and charm of owning a POUNDS product. The rig is available in several colors, allowing you to choose the one that best suits your style and personality.
To complete the package, the Battleship Sidecar Dab Rig comes in a collector's box, adorned with POUNDS decals. This not only adds a touch of sophistication but also ensures that your rig is safely stored when not in use.
Experience the power and elegance of the Battleship Sidecar Dab Rig from POUNDS by Snoop Dogg. Elevate your smoking sessions to new heights with this exceptional piece of craftsmanship.