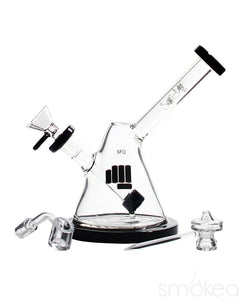 POUNDS by Snoop Dogg SFO Water Pipe
Experience the next level of smoking with the SFO Water Pipe from POUNDS by Snoop Dogg. This exquisite hand-blown glass water pipe is a true masterpiece, designed to elevate your smoking experience to new heights.
Crafted with precision and attention to detail, the SFO Water Pipe boasts a beaker base that not only provides stability but also enhances the overall aesthetic appeal. The straight mouthpiece with colored accents adds a touch of style, making it a statement piece that will surely turn heads.
But it's not just about looks. The SFO Water Pipe is engineered for optimal performance. Equipped with a fixed downstem and finished joints, this water pipe ensures a seamless smoking experience. The showerhead percolator takes it a step further, delivering smooth and filtered hits that will leave you in awe.
Whether you prefer dry herbs or extracts, the SFO Water Pipe has got you covered. It comes complete with a dry herb bowl, quartz banger, dab tool, and carb cap, so you can enjoy your favorite smoking materials with ease.
Every POUNDS piece is a work of art, and the SFO Water Pipe is no exception. It comes packaged in a magnetic scotch collectors box, adorned with POUNDS decals and Snoop Dogg's signature decal. This not only adds a touch of exclusivity but also ensures that your prized possession is protected and ready to be showcased.
Available in a range of captivating colors, the SFO Water Pipe stands at an impressive 7" in height and features a 4.5" base diameter. With a 14mm joint size, it is compatible with a variety of accessories, allowing you to customize your smoking experience to suit your preferences.
Indulge in the ultimate smoking experience with the SFO Water Pipe from POUNDS by Snoop Dogg. Immerse yourself in the smoothness, style, and sophistication that only this exceptional water pipe can deliver. Elevate your smoking game and make a statement with the SFO Water Pipe.