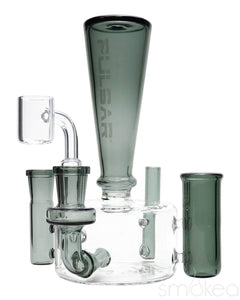 Pulsar 7" All in One Dab Station Rig
The Pulsar 7" All in One Dab Station Rig is the ultimate dabbing companion for the modern enthusiast. Crafted with precision and care, this unique piece is a testament to Pulsar's commitment to quality and innovation.
Made from high quality borosilicate glass, this rig is not only durable but also provides a smooth and clean smoking experience. Its stemless design ensures maximum stability, while the funnel-shaped mouthpiece adds a touch of elegance and uniqueness to its overall aesthetic.
But what truly sets this dab rig apart is its ingenious design. Built-in glass tubes provide a convenient storage solution for all your dab tools, bangers, and other accessories. No more searching for misplaced items or cluttered workspaces – everything you need is right at your fingertips.
Included with the rig is a 14mm quartz banger, ensuring optimal heat retention and flavor preservation. Whether you're a seasoned dabber or just starting out, this banger will elevate your dabbing experience to new heights. And to top it all off, a stylish Pulsar decal adds a touch of personality to this already impressive piece.
With dimensions of 7" in height, a 14mm joint size, and a 3.25" base diameter, this dab rig strikes the perfect balance between portability and functionality. It's compact enough to take on the go, yet spacious enough to deliver powerful and satisfying hits.
Please keep in mind that each All in One Dab Station Rig is individually handcrafted, resulting in slight variations in sizes, colors, decals, accessories, and patterns. This ensures that each piece is truly one-of-a-kind, adding to its allure and exclusivity.
In conclusion, the Pulsar 7" All in One Dab Station Rig is a must-have for any dabbing enthusiast. Its exceptional design, convenient storage capabilities, and high-quality materials make it a standout choice in the market. Elevate your dabbing experience with Pulsar and experience the difference for yourself.